Management Research and Recommendations for Île Bouchard and Île Á l'Aigle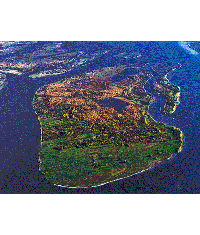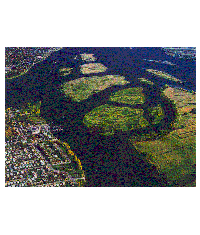 Executive Summary
Trends
| | |
| --- | --- |
| | Water Level |
Water levels are decreasing in the

St. Lawrence River

| | |
| --- | --- |
| | Artificial regulation |
In order to keep a minimum depth for boat traffic, upstream dams hoard floodwater. This limits the River's fluctuations, so high water during a flood isn't so high anymore.
| | |
| --- | --- |
| | Climate change |
Interiors of continents are expected to receive less water, so there will be less water in the Great Lakes watershed that feeds the St. Lawrence River.
| | |
| --- | --- |
| | The Effects of this decrease include: |
| | |
| --- | --- |
| | Erosion and Deposition |
| | |
| --- | --- |
| | Overland erosion is minimal |
| | Wave action causes most of the erosion |
Île à l'Aigle:

| | |
| --- | --- |
| | Island sheltered from shipping channel |
| | Deposition outweighs erosion |

Île Bouchard:

| | |
| --- | --- |
| | Exposed to wave action from shipping channel |
| | Extensive erosion on south shore |

Affects of Erosion on the Islands

| | |
| --- | --- |
| | Erosion and deposition alter habitat and affect succession |
| | Tall and dense plant species will grow on shores sheltered from wave action (Île à l'Aigle) |
| | Short and sparse species will grow on shores exposed to wave action (Île Bouchard) |
| | |
| --- | --- |
| | Ecological Succession |
| | |
| --- | --- |
| | Wetland Succession |
| | |
| --- | --- |
| | Dryland Succession |
| | |
| --- | --- |
| | Invasive Species |
Vulnerable Species
| | |
| --- | --- |
| | Invasive plant species may out-compete the preferred habitat of many of our vulnerable species |
| | Many of the vulnerable species are affected in the same way by the trends |
| | A decrease in water levels and erosion will cause a reduction in the habitat of many of the species on the islands |
| | Maintenance of a mosaic of vegetation will benefit many of our species |
| | Species |
Conclusion/Recommendations
Recommendations

| | |
| --- | --- |
| | Monitor population health of vulnerable species |
| | Monitor invasives and take control measures if necessary |
| | Monitor environmental conditions – water levels, erosion, ecological succession |
| | Allow flooding to continue unabated |
| | Survey islands systematically and in detail |
| | Study whether bank erosion is necessary to retain the biological characteristics of the reserve |
To graze or not to graze?

| | |
| --- | --- |
| | We need to maintain a mosaic habitat |
| | Examine the impacts of light grazing on the biological community |
| | Overgrazing could reduce biodiversity, but limited grazing may increase the amount of mosaic grasslands. |

Conclusions

| | |
| --- | --- |
| | Managing ecosystems is a very complex issue |
| | There is no 'grand Scheme' solution |
| | To maintain the existing biological diversity, maintenance of current levels of habitat diversity is crucial |
| | There are several management strategies NCC may choose to incorporate |
Organizations Involved